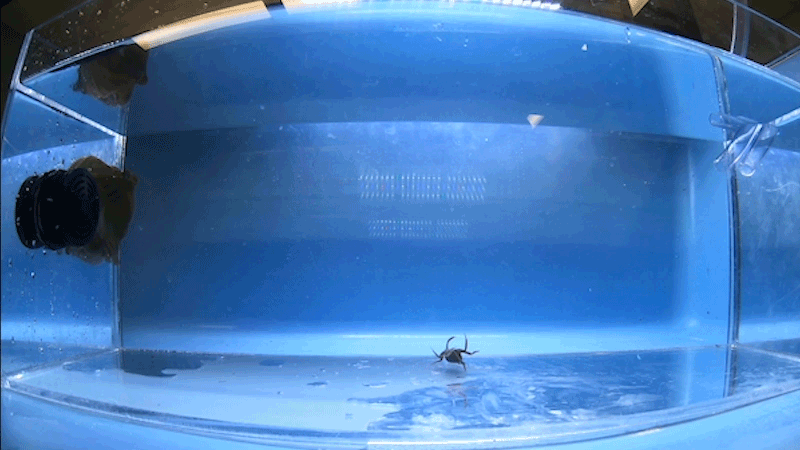 Neuroscience
Some of the cells on a cephalopod's suckers respond to substances produced by ocean creatures.
The arms of an octopus are lined with hundreds of suckers, each of which can act as a taste bud. Now, researchers have found that cells on the suckers' surfaces allow the California two-spot octopus (Octopus bimaculoides) to taste its food.
Nicholas Bellono at Harvard University in Cambridge, Massachusetts, and his colleagues analysed how octopuses behaved when their suckers touched an object. The octopuses wrapped crabs — a prey item — in their arms after probing them with the suckers, but they ignored inanimate objects. This confirmed that the animals use their suckers to detect food.
Previous research has shown that the suckers are dotted with sensory cells. Bellono's team found that structures called chemotactile receptors on the surface of some of these cells respond to specific molecules, including terpenoids, which many marine invertebrates produce as a defence mechanism. After binding to these chemicals, the receptors generate an electrical signal that passes chemical and tactile information to the octopus' nervous system.
The findings could explain how octopuses explore the sea-floor by tasting objects with their arms, the researchers say.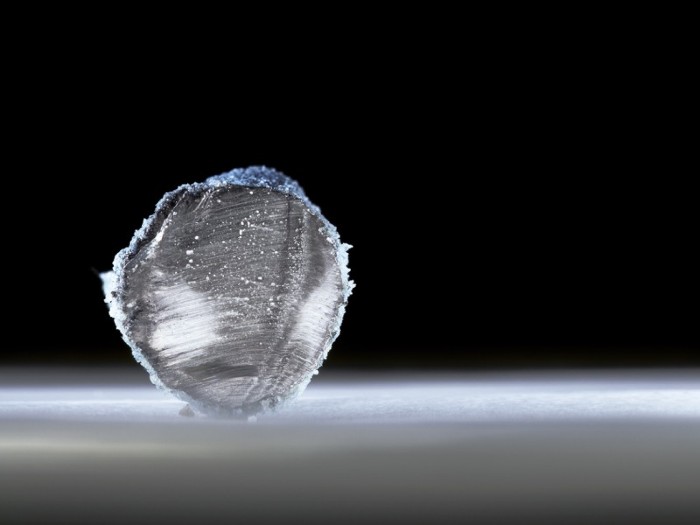 Materials science
A standard laboratory tool allows researchers to produce two potentially dangerous metals and to observe them as they form.
Lithium and sodium are highly reactive metals, making them difficult to study in their elemental forms. But now researchers have harnessed a transmission electron microscope (TEM) to generate pure forms of each element while imaging the process.
A TEM creates images by bouncing a beam of electrons off a target material. Yi Yu and his colleague at ShanghaiTech University in China used a TEM to bombard compounds that contained either lithium or sodium with electrons. In response to the barrage, the compounds decomposed.
As the compounds broke down, crystals of pure lithium or sodium precipitated and rapidly expanded outwards, reaching about a couple hundred nanometres in diameter within seconds before crystallization slowed. Even though the samples were in a vacuum chamber, the researchers determined that trace amounts of oxygen managed to oxidize the surface of the metals.
The researchers also observed long crystalline fingers extending from the lithium crystals. Scientists suspect that such structures develop gradually inside lithium-ion batteries, shortening battery life or even causing fire. The authors hope that TEMs could help to decipher the fingers' mysteries.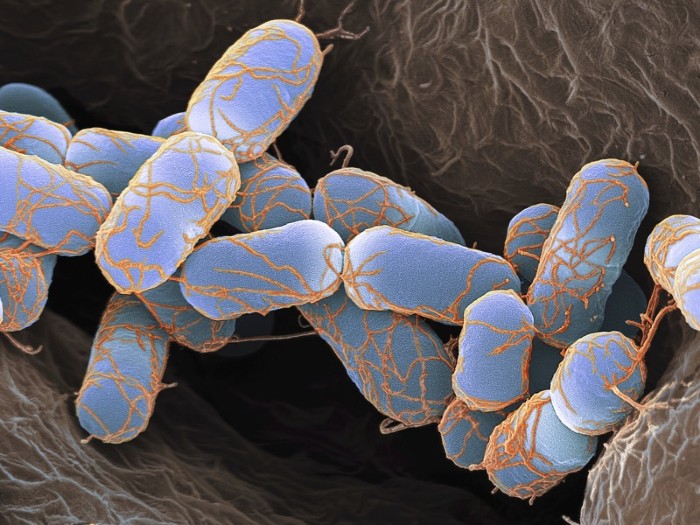 Synthetic biology
Borrowed genes help E. coli to subsist on the relatively modest levels of carbon dioxide in Earth's atmosphere.
Plants, algae and other photosynthetic organisms draw their carbon from carbon dioxide in Earth's atmosphere. This process is catalysed by an enzyme called Rubisco, which works inefficiently at atmospheric levels of CO2. As a workaround, many plants and other photosynthetic organisms use systems called CO2-concentrating mechanisms, which raise CO2 levels near this enzyme to improve its efficiency.
David Savage at the University of California, Berkeley, Ron Milo at the Weizmann Institute of Science in Rehovot, Israel, and their colleagues had previously engineered Escherichia coli bacteria to grow on CO2, instead of the bacterium's preferred diet of sugars and other organic molecules. But their E. coli strain, which made use of Rubisco, grew only at artificially high levels of CO2.
To enable growth in atmospheric CO2 levels, the researchers added a set of 20 genes that code for the CO2-concentrating mechanism of the bacterium Halothiobacillus neapolitanus. The resulting E. coli strain can subsist on atmospheric CO2 levels.
Escherichia coli, which are easy to manipulate in the lab, could serve as a test bed for understanding other CO2-concentrating genes, the researchers say.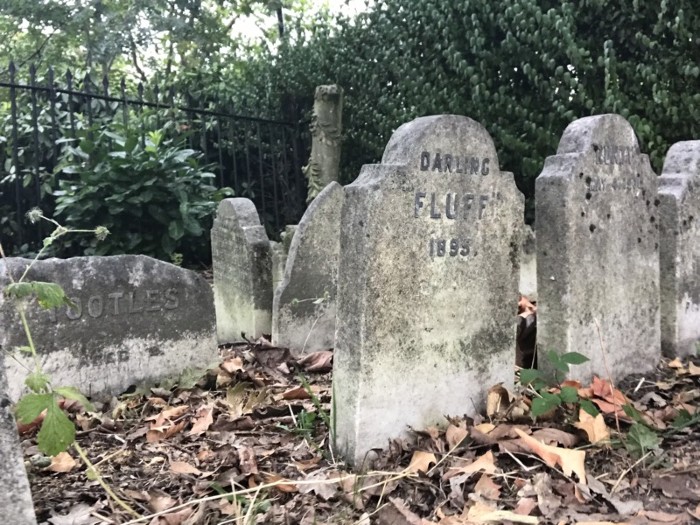 Archaeology
Canines bark at the pearly gates, according to inscriptions on gravestones installed since the Second World War.
Even in the late nineteenth century, Britons erected memorials to their departed pets. An analysis of pet gravestones dating from the 1880s to the 1990s shows a growing belief in an animal afterlife — and in reunion after death.
Eric Tourigny at Newcastle University, UK, analysed gravestones, most of them dedicated to dogs, in four pet cemeteries in the United Kingdom. The oldest, in London's Hyde Park, dates back to 1881.
Faith in animals' salvation is at odds with cultural and religious norms in many societies, and early gravestones do not express confidence in an animal afterlife or in a heavenly meeting between pets and their owners. A 1900 inscription to 'Grit', for example, reads, 'Could I think we'd meet again, it would lighten half my pain'. Few gravestones erected between the late nineteenth and mid-twentieth centuries included Christian references or symbols.
But use of these symbols and hopes of reunification increased after the Second World War, as did the number of gravestones bearing family surnames — a sign that pet owners began to view their four-legged companions as family members.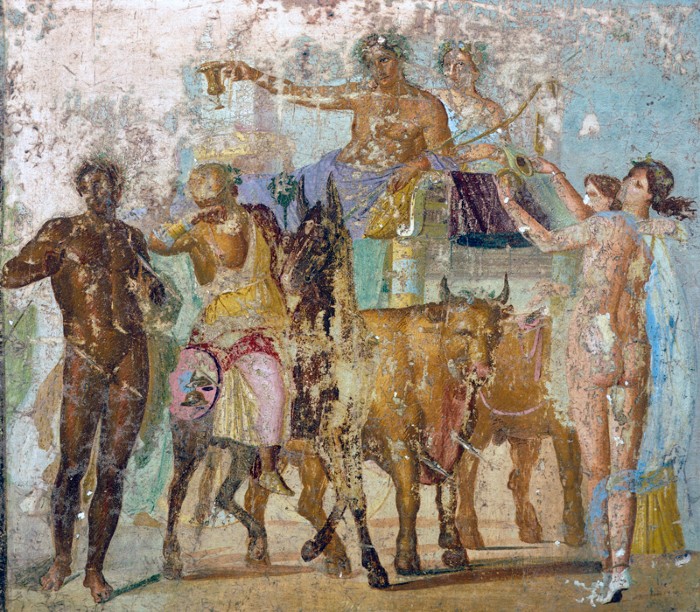 Chemistry
Compounds in the detritus that entombed the ancient city might be degrading its murals.
Volcanic ash that preserved the ancient city of Pompeii for nearly 2,000 years could now be eroding the city's celebrated murals.
Pompeii was buried when Mount Vesuvius erupted in ad 79. The murals in many of the city's buildings are degrading, and white crystals precipitating on their surfaces suggest that the paints are interacting with ions dissolved in water.
To investigate, Maite Maguregui and Silvia Pérez-Diez at the University of the Basque Country in Spain and their colleagues used a portable instrument that fires a laser beam at an object, atomizing a tiny amount of material, and analyses the resulting radiation. The team trained the instrument on ash and pumice collected in Pompeii and on white salts on murals at Pompeii's House of Ariadne and House of Marcus Lucretius. Both the volcanic material and the salts contained fluoride and chloride ions, which could have migrated from the volcanic deposits onto the paintings.
The researchers suspect that the murals' degradation accelerated after excavations exposed Pompeii to rain and humidity. They hope that the laser-based instrument can identify residual volcanic ash on murals so that it can be removed.
Correction: An earlier version of this article incorrectly stated that the authors studied murals at the House of Marcus Lucretius Fronto.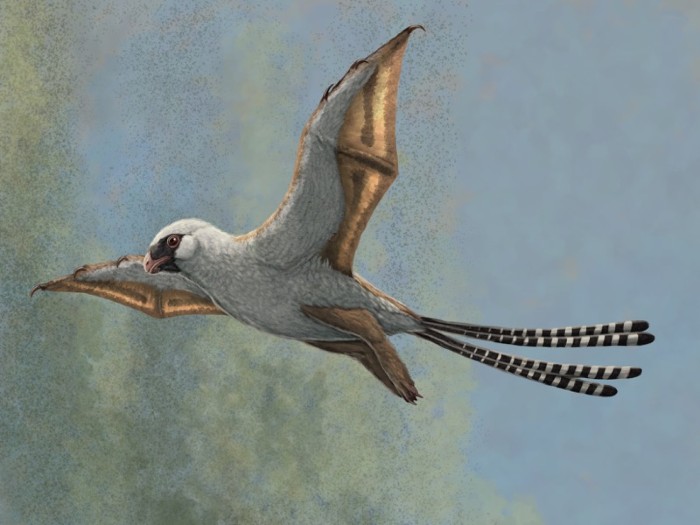 Palaeontology
Little bat-like dinosaurs could glide — but only just.
It is one of the enduring wonders of evolution that natural selection can produce complex traits such as flight. But that doesn't mean every evolutionary journey ends with a falcon's speed or a swallow's aerial acrobatics.
Alexander Dececchi at Mount Marty University in Yankton, South Dakota, and his colleagues analysed the fossilized remains of two species of feathered dinosaur, Yi qi and Ambopteryx longibrachium. Both lived in what is now China some 160 million years ago, and both weighed less than one kilogram.
These little reptiles might have been able to glide — poorly. Laser-stimulated fluorescence, an imaging technique that uses lasers to excite atoms, which then emit light, revealed details of the skin between Yi qi's elongated digits that suggest the creature had membranous wings. Mathematical models of the performance of these 'wings' suggest that the dinosaurs would have been able to glide only short distances and that they are unlikely to have been capable of flapping or powered flight. They probably walked relatively slowly on the ground and therefore lived their lives in trees.
Perhaps unsurprisingly, this lineage quickly went extinct, leaving the skies to the ancestors of today's birds.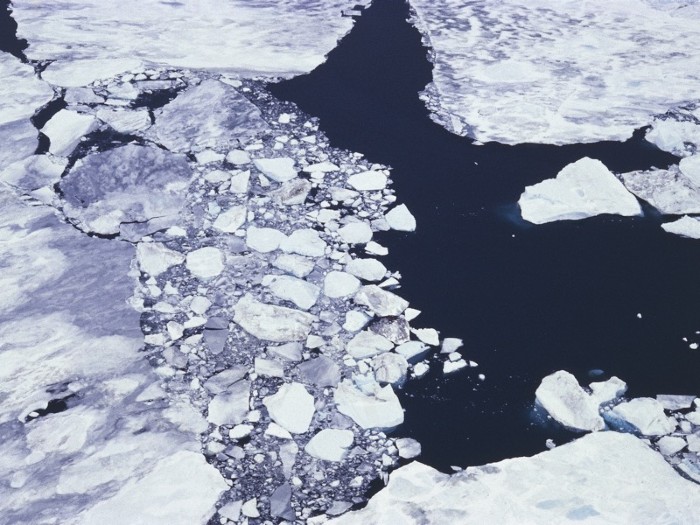 Ocean sciences
Elephant seals help to show that tongues of ultra-frigid seawater are relatively common in the Southern Ocean.
The Southern Ocean is riddled with supercooled stretches of liquid water that are colder than the freezing point.
Seawater generally freezes below –1.85 °C, but the icy waters around Antarctica can remain liquid even below that temperature. The subsurface melting of ice shelves can generate supercooled water, as can sea-ice formation. But the extent of supercooling around Antarctica has been unknown.
Alexander Haumann at Princeton University in New Jersey and his colleagues used data collected from research ships, autonomous floats and sensor-wearing Southern elephant seals (Mirounga leonina) to identify regions of the ocean where supercooling was occurring. They found that up to 5.8% of the analysed water profiles from the Southern Ocean had temperatures below the ocean's surface freezing point, a far greater prevalence than expected.
In almost one-quarter of the profiles that showed supercooling due to sea-ice formation, the ultra-chilly water penetrated into the depths of the ocean. Such supercooled plumes could represent an important pathway for heat loss in the deep ocean that is currently not represented in climate models, the authors say.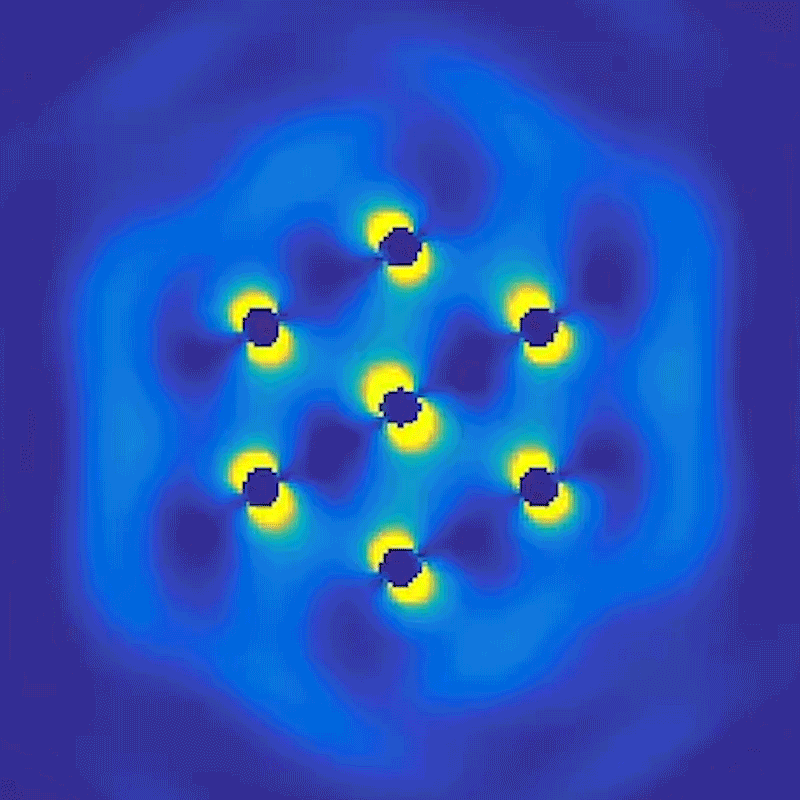 Optics and photonics
Laser light helps to build a miniature 'gear' system and provides energy to turn it.
When added to water, many nanometre-scale particles do little more than dance around. But when they are forced together by laser light, the tiny particles can organize themselves into orderly structures known as optical matter. Norbert Scherer at the University of Chicago in Illinois and his colleagues have put such matter to work.
The researchers used a type of polarized laser beam to create an array of seven nanoparticles, with one positioned in the centre and the others forming a hexagon around it. Light scattered by the particles caused the entire seven-particle collection to rotate as if it were one rigid body.
The scattered light also imparted angular momentum to another nearby 'probe' particle. And although the array rotated in a clockwise direction, the probe orbited around it anticlockwise. The researchers liken this behaviour to that of a planetary gear system, in which a gear is paired with and moves around a rotating central gear. The team's assemblage transforms light into energy that can be used to move the 'gears'.
The authors say that the approach represents a new way of doing work at the nanoscale.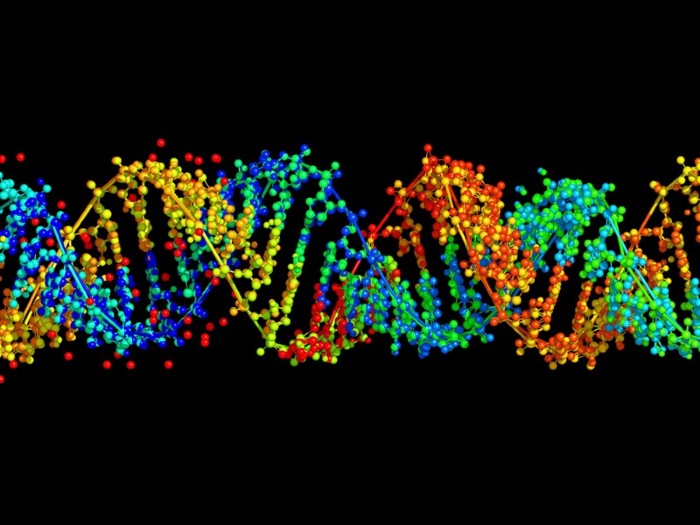 Biotechnology
Technique allows scientists to complete a timeline for gene activity in a single cell.
An RNA-editing tool that 'timestamps' RNA molecules reveals not only which genes in a cell are turned on at any one time, but also when they were turned on.
When a gene is switched on, it triggers the production of RNA molecules that carry the information needed to make a specific protein. Scientists hoping to understand a cellular process often sequence the RNA molecules present at a given moment in a single cell. But researchers have lacked a reliable way to determine when a particular gene became active.
A team led by Edward Boyden at the Massachusetts Institute of Technology in Cambridge and Fei Chen at the Broad Institute of Harvard and MIT, also in Cambridge, tagged genes with a genetic sequence that is recognized by an RNA-editing protein. After these genes had synthesized RNA, the protein made chemical changes to the molecule, adding progressively more edits over time.
When the researchers then sequenced the RNA molecules, they could assume that those with more chemical edits were older than those with fewer edits. The system can narrow down an RNA molecule's age to within roughly one hour.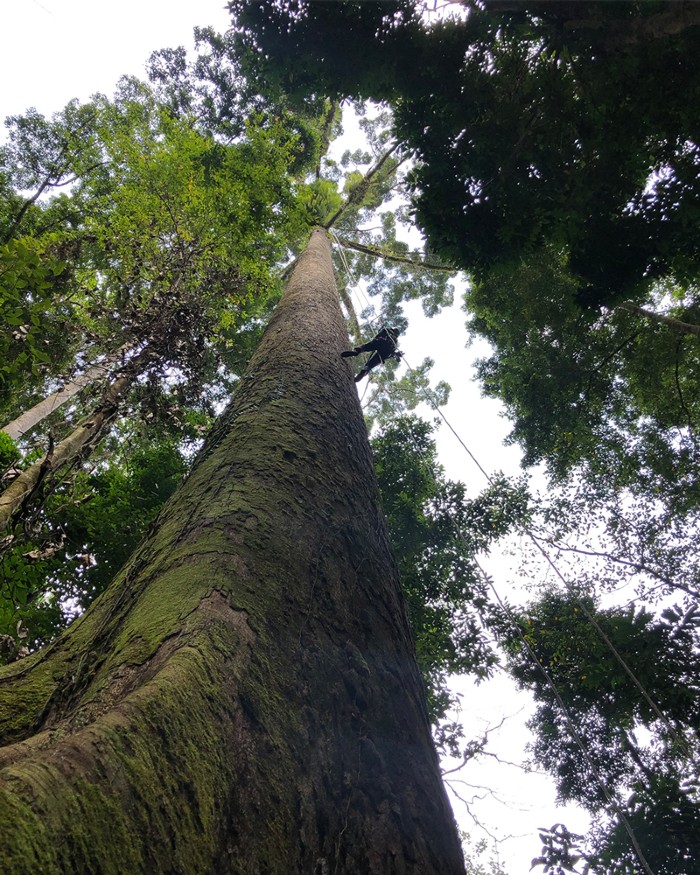 Ecology
Scientists find that strong winds constrain tropical forest height, but island's gentle breezes allow trees to stretch tall.
Relatively gentle winds on Borneo could explain why the island hosts the world's tallest tropical forest — including the tallest known tree in the tropics, the 100-metre giant named Menara.
Last year, an international team described Menara, a yellow meranti (Shorea faguetiana) growing in a research plot in Malaysian Borneo. Now, a team composed of many of the same scientists and led by Tobias Jackson at the University of Oxford, UK, has used laser scanning to create a 3D model of several dozen trees in the plot and to measure their heights.
The researchers also placed strain gauges on the trees' trunks to assess how much they bend in the wind, and modelled how much stress they could sustain. The results suggest that in tropical forests, the strongest winds put a limit on tree growth.
Large conifers in temperate forests, such as California's coastal redwoods (Sequoia sempervirens), can grow even taller than Menara, but they are probably limited by factors other than wind speeds, because they have much thicker trunks, Jackson says.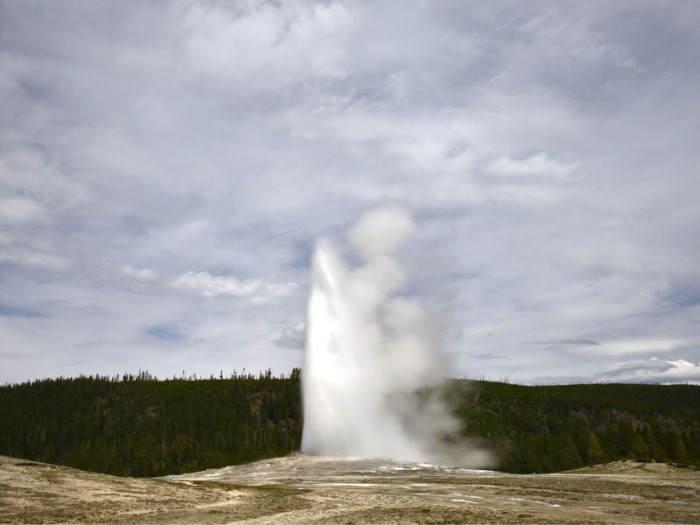 Hydrology
Future climate change could slow the eruptions of the legendary volcanic spring.
The iconic US geyser called Old Faithful, now a symbol of reliability, has not always lived up to its name: it stopped erupting in the thirteenth century because of droughts.
Today, tourists flock to Yellowstone National Park in Wyoming to see Old Faithful dramatically and predictably spewing boiling water and steam about 20 times a day. It is powered by geothermal heat, which turns water into pressurized steam in underground cavities. When some of that vapour leaks out, the pressure drops and the mixture suddenly boils and erupts.
Shaul Hurwitz at the US Geological Survey in Moffett Field, California, and his colleagues gathered fossilized wood embedded in the mound of geological debris that surrounds Old Faithful. This wood came from trees that must have grown during a period when the geyser was not erupting.
Radiocarbon dating showed that the trees lived in the thirteenth and fourteenth centuries. That's also when severe droughts wracked the Yellowstone region, tree-ring records show. Less rainfall would have meant less groundwater to supply the geyser's eruptions.
Future warming could lead to more droughts and a slowdown of Old Faithful, the authors say.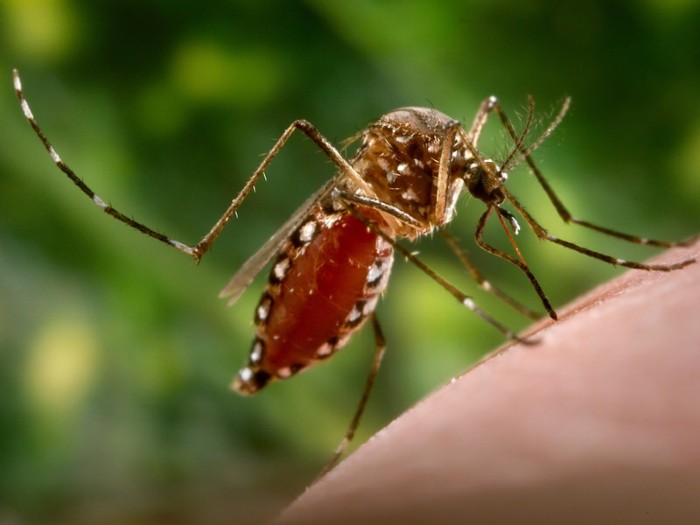 Neuroscience
The insects savour blood meals with the help of specialized nerve cells in their biting apparatus.
When it comes to blood, female mosquitoes have a taste for it. Scientists have found that the needle-like proboscis of female Aedes aegypti mosquitoes contains specialized neurons that distinguish between blood and nectar.
Female mosquitoes feed on plant nectar but also seek blood to gain the nutrients to produce eggs. Leslie Vosshall at the Rockefeller University in New York City and her colleagues tracked the activity of sensory neurons in the insects' blood-feeding appendage, called the stylet. The researchers found that stylet neurons start to fire in the presence of blood but not when exposed to sugars found only in nectar, such as fructose.
The team's experiments showed that the blood-responsive stylet neurons also become active when exposed to a mixture of four blood ingredients: sodium chloride, glucose, the energy-carrying molecule ATP and blood's main pH regulator, sodium bicarbonate. The neurons did not respond to pure glucose, a major component of nectar.
Understanding how mosquitoes recognize blood could help to prevent the insects from spreading deadly diseases such as yellow fever through their bites, the researchers say.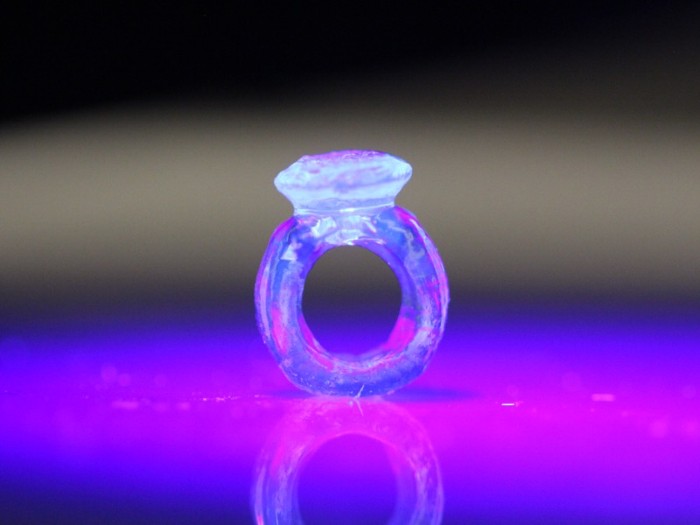 Materials science
New ingredients allow a printing technique that once produced only brittle objects to turn out items that are pliable or sturdy.
From a vat of liquid resin, a 3D-printed ballerina emerges mid-pirouette in one smooth piece. Thanks to the liquid resin's versatility, new dancers joining her could be either stiff and tough, or bendy and stretchy.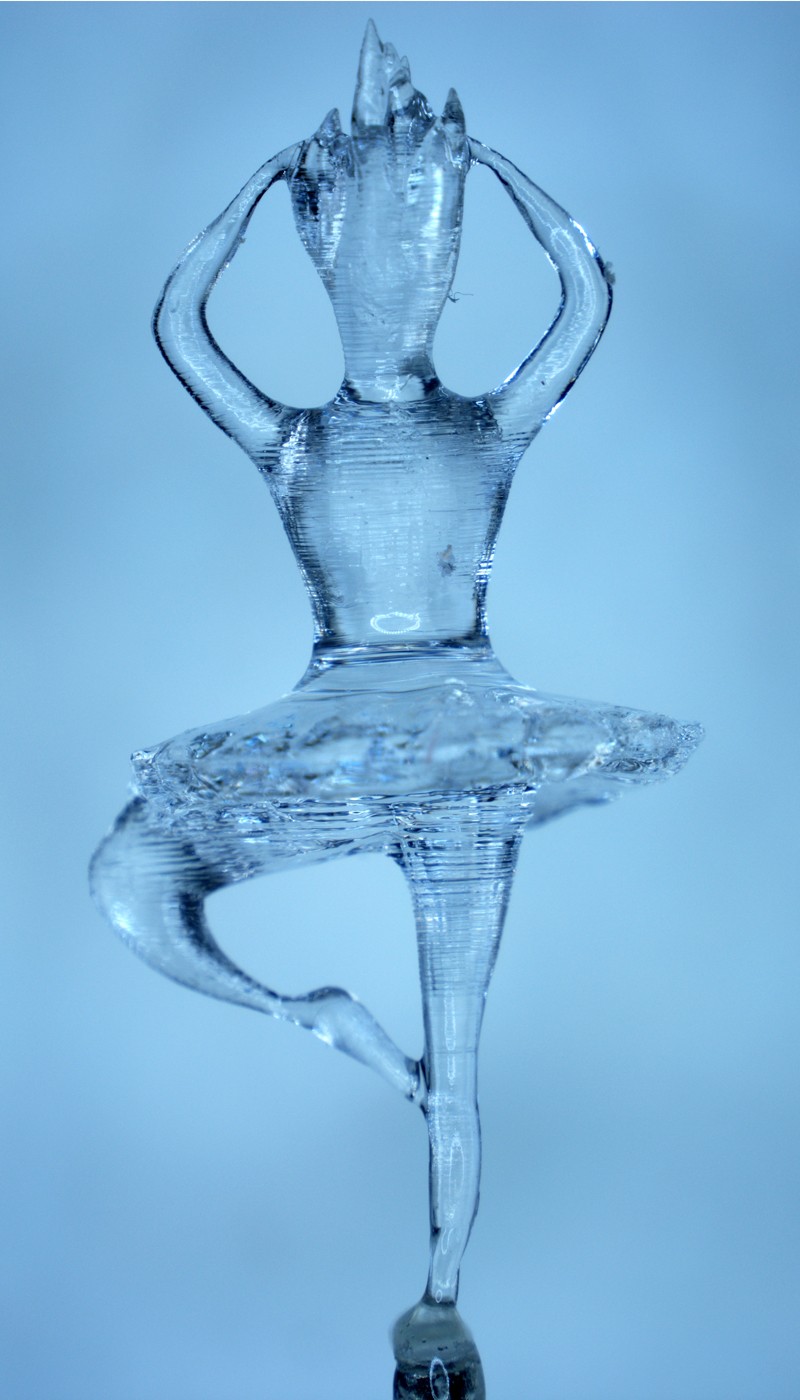 Most 3D-printing techniques gradually build up an object one thin layer of raw material at a time; finished products have a characteristic roughness. An alternative method prints objects by projecting multiple beams of light encoding the desired 3D shape into a resin inside a spinning vial, solidifying the desired form within minutes. But so far this technique has worked only with resins that harden into objects that are as brittle as glass.
Maxim Shusteff at the Lawrence Livermore National Laboratory in California and his colleagues identified three suitable molecular building blocks and combined them into resins. By varying the ratio of these molecules in the resin, the team could create objects with a vast range of material properties.
Some printed objects could stretch to more than four times their length before breaking. Others were stronger than most high-performing engineering plastics used in planes and cars.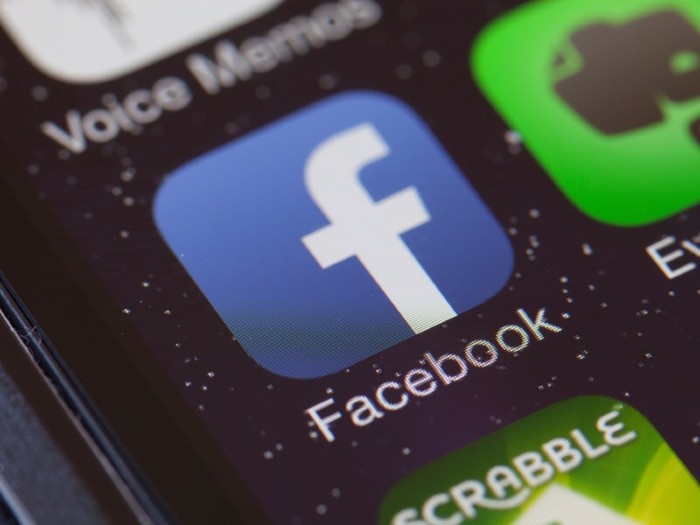 Psychology
Authentic self-expression on social media is linked to enhanced mood.
When social media overflows with friends' good news, it can be tempting to play up one's own triumphs in response. But analysis by Erica Bailey and Sandra Matz at Columbia University in New York City and their colleagues suggests that it might be better to be authentic.
The group collected the results of 10,560 questionnaires that people completed on Facebook to assess their own personalities and life satisfaction. The researchers compared these data with the results of models developed to infer an individual's personality from their Facebook activity.
Users whose self-assessed personality matched up well with their behaviour on the site — those who, in other words, expressed themselves more authentically on Facebook — reported more life satisfaction than those whose self-description differed from their behaviour.
So does being authentic on social media make you happier, or do happier people post more authentically? The authors asked paid participants to spend a week posting authentically to social media and another week presenting a 'self-idealized' version of themselves. Preliminary results from this small cohort suggest that authentic expression does improve mood.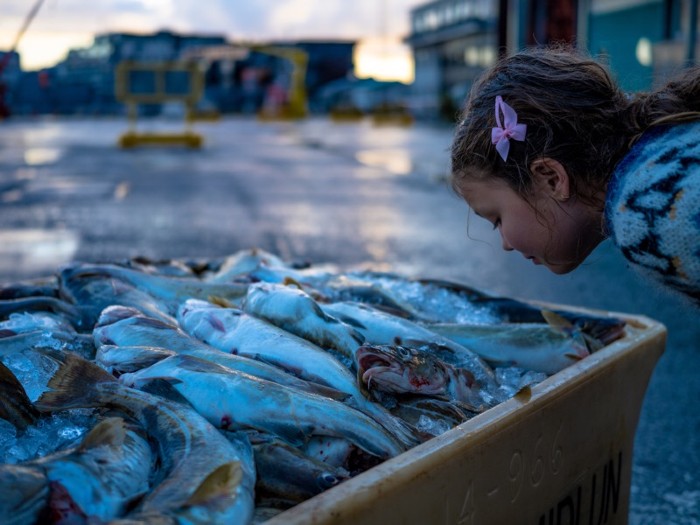 Genetics
When exposed to the reek of fish, people with a particular mutation tend to misidentify the odour — or not detect it at all.
The pungent aroma of fish prompts many people to hold their noses. But for individuals with a particular genetic variant, even rotten fish can smell like caramel.
Rosa Gisladottir and Kari Stefansson at deCODE Genetics in Reykjavik and their colleagues scoured the DNA of more than 11,000 people in Iceland for genetic variants that influence odour perception. The researchers asked study participants to sniff a range of scents, including those of liquorice, cinnamon and fish. After inhaling an odour, the participants named the smell and rated its intensity and pleasantness.
The researchers found that a mutation in a gene that encodes a specific odour receptor in the nasal cavity affects a person's perception of a compound in spoiled and fermented fish. Compared with the general population, people with the mutation found the fishy odour less intense and less unpleasant, and they tended to identify the smell as an item unrelated to seafood, such as potatoes, caramel or rose. Some people with the mutation could not detect the fish odour at all.
People with other genetic variants tended to find liquorice or cinnamon odours more pleasant than individuals without the variants.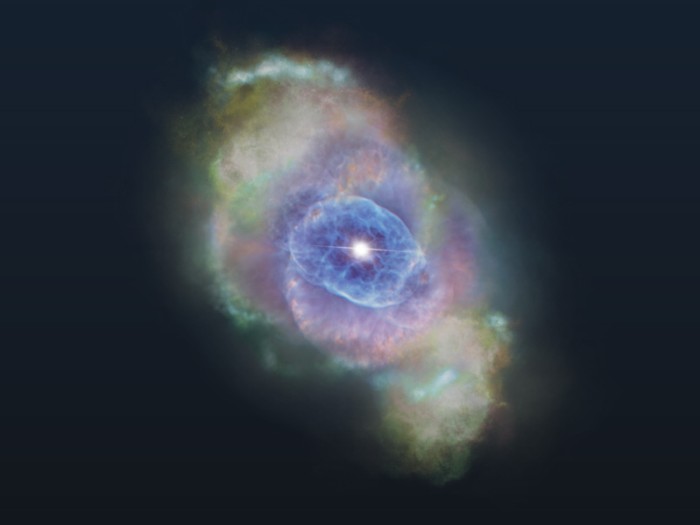 Astronomy and astrophysics
A merger between two black holes of vastly different masses might have stemmed from a relationship between two unequal stars.
In an unprecedented sighting in 2019, gravitational-wave observatories detected the merger of two black holes of substantially different sizes, one of them more than three times as massive as the other. Now astrophysicists have calculated that the black holes could have originated as a binary star system.
Aleksandra Olejak at the Polish Academy of Sciences in Warsaw and her collaborators refined existing computer models for the evolution of binary star systems, which consist of two stars orbiting each other. The team found that if the two stars have certain initial masses, then they will end their lives by collapsing into two black holes of very uneven sizes, which will then continue to orbit each other until they merge.
Previously, only black holes that formed independently and later came to orbit each other were seen as plausible players in such a lopsided event. In particular, researchers had expected that in a binary star system, the smaller black hole's formation would often cause the system to break up prematurely: the star's collapse was predicted to produce a lopsided supernova explosion that would kick the resulting black hole out of the partnership.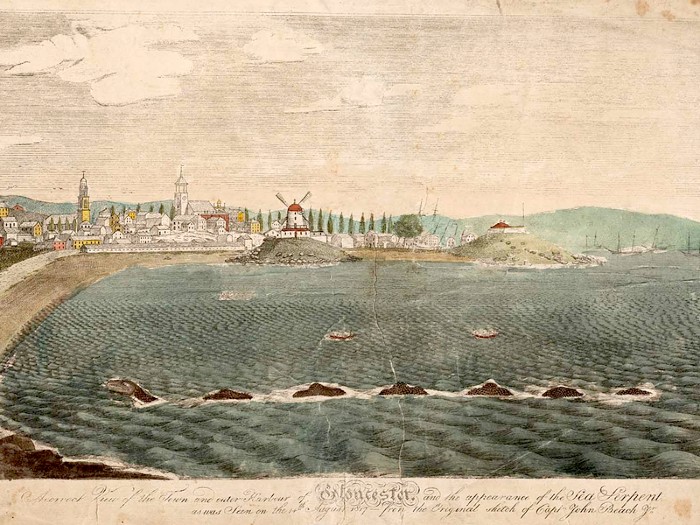 Fisheries
Centuries-old 'unidentified marine objects' hint that sea creatures have been getting entangled in fishing lines since before the invention of plastic.
'Sea serpents' spotted around Great Britain and Ireland in the nineteenth century were probably whales and other marine animals ensnared in fishing gear — long before the advent of the plastic equipment usually blamed for such entanglements.
The snaring of sea creatures in fishing equipment is often considered a modern phenomenon, because the hemp and cotton ropes used in the past degraded more quickly than their plastic counterparts. But Robert France at Dalhousie University in Truro, Canada, identified 51 probable entanglements near Great Britain and Ireland dating as far back as 1809.
France analysed 214 accounts of 'unidentified marine objects' from the early nineteenth century to 2000, looking for observations of a monster that had impressive length, a series of humps protruding above the sea surface and a fast, undulating movement through the water. France says that such accounts describe not sea serpents but whales, basking sharks (Cetorhinus maximus) or other marine animals trailing fishing gear such as buoys or other floats.
Such first-hand accounts could help researchers to construct a better picture of historical populations of marine species and the pressures they faced, France says.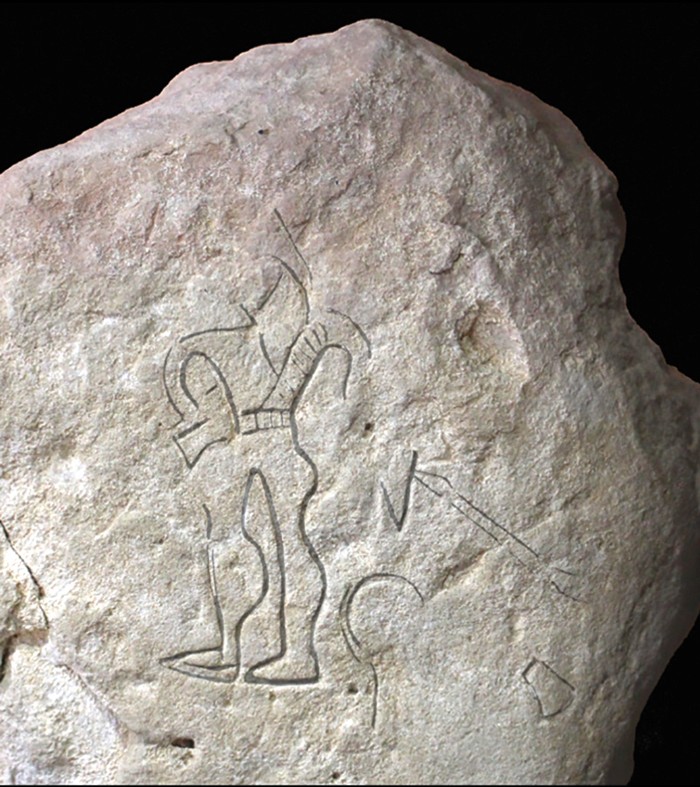 Archaeology
Ruins and human bones in Spain capture a prosperous market town on the day when it was burnt and its inhabitants slaughtered.
A baby, a child only a few years old, a teenage girl adorned with bracelets: these are some of the people killed and left where they lay in a prehistoric town, testament to a massacre more than 2,300 years ago.
The settlement of La Hoya, in what is now Spain, was discovered in 1935, but has been little studied. Teresa Fernández-Crespo at the University of Oxford, UK, and her colleagues analysed human bones found at La Hoya, identifying the remains of 13 people, ranging from an infant to adults.
The bones bore cut marks suggesting that the attackers had amputated limbs and decapitated at least one person. Some of the dead were apparently attacked from behind. No weapons were found with the bodies to indicate that they had tried to defend themselves, and the bones showed evidence of burning. The authors think many more remains are undiscovered.
After the massacre, La Hoya was abandoned. The remains suggest that prehistoric peoples in the region were capable of extreme, organized violence — long before the arrival of the famously violent Romans.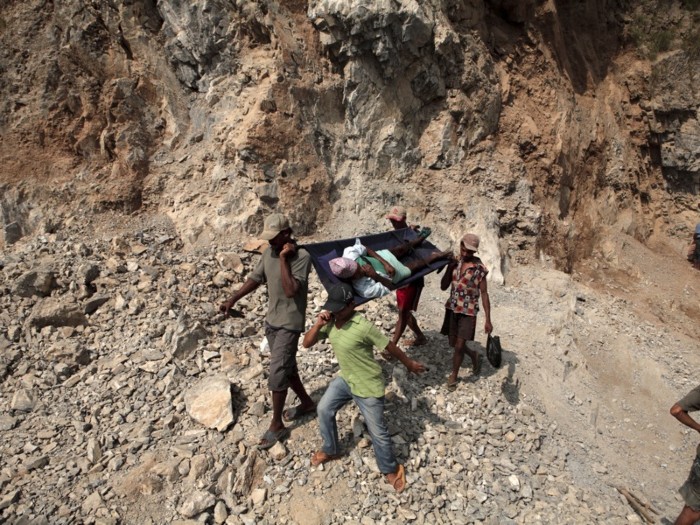 Health care
More than 40% of people globally face a long trip to a health-care facility unless they find a ride by car, bus or similar form of transport.
A clinic or hospital is a short journey away for the vast majority of people in the world — as long as they can travel by motor vehicle.
The longer the trip to see a doctor, the less likely people are to seek care. To understand this barrier to treatment, Daniel Weiss at the Telethon Kids Institute in Perth, Australia, and his colleagues used Google Maps, OpenStreetMap and other geographic-data sources to locate hospitals and clinics across the planet. They then estimated the time a person would spend travelling to the nearest such facility with and without access to motorized transport.
They found that only 57% of the world's population can reach a health-care facility within an hour if on foot — but more than 90% can do so if riding in a motorized vehicle. Places that still have a high proportion of people who are more than an hour's journey from health care by any means of transport include Afghanistan, Sudan and Venezuela.
The authors say that their results highlight the areas where additional hospitals or clinics are most needed.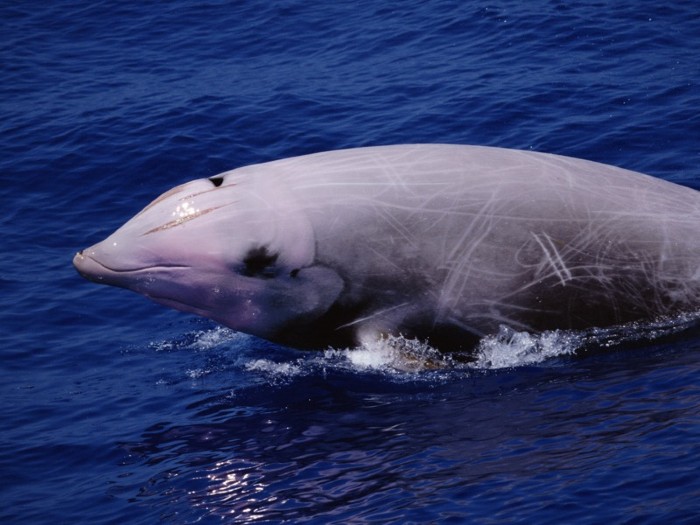 Zoology
The elusive Cuvier's beaked whale, already known for its prowess as a diver, turns out to have even more staying power than scientists thought.
The champion diver among whales can stay underwater for more than 3½ hours — an unparalleled diving record for any mammal.
Cuvier's beaked whales (Ziphius cavirostris), which live in deep waters around the world, are capable of reaching depths of almost 3,000 metres when hunting for squid and other food. Scientists had previously estimated that these whales could hold their breath for around 30 minutes before exhausting their oxygen store. But observations among Cuvier's whales foraging off the coast of North Carolina suggest they can dive for far longer.
Nicola Quick at Duke University in Beaufort, North Carolina, and her team fastened satellite-linked tags on 23 whales and obtained records from almost 3,700 deep dives over a 5-year period. The data reveal that the median duration of foraging dives was around a full hour, before the animal returned to the surface to recover.
One individual made two extreme dives of 2 hours 57 minutes, and 3 hours 42 minutes, respectively, which might represent the true limit of the species' extraordinary diving capacity, the researchers say.