Lagrange is a desktop GUI client for browsing Geminispace. It offers modern conveniences familiar from web browsers, such as smooth scrolling, inline image viewing, multiple tabs, visual themes, Unicode fonts, bookmarks, history, and page outlines.
Like Gemini, Lagrange has been designed with minimalism in mind. It depends on a small number of essential libraries. It is written in C and uses SDL for hardware-accelerated graphics. OpenSSL is used for secure communications.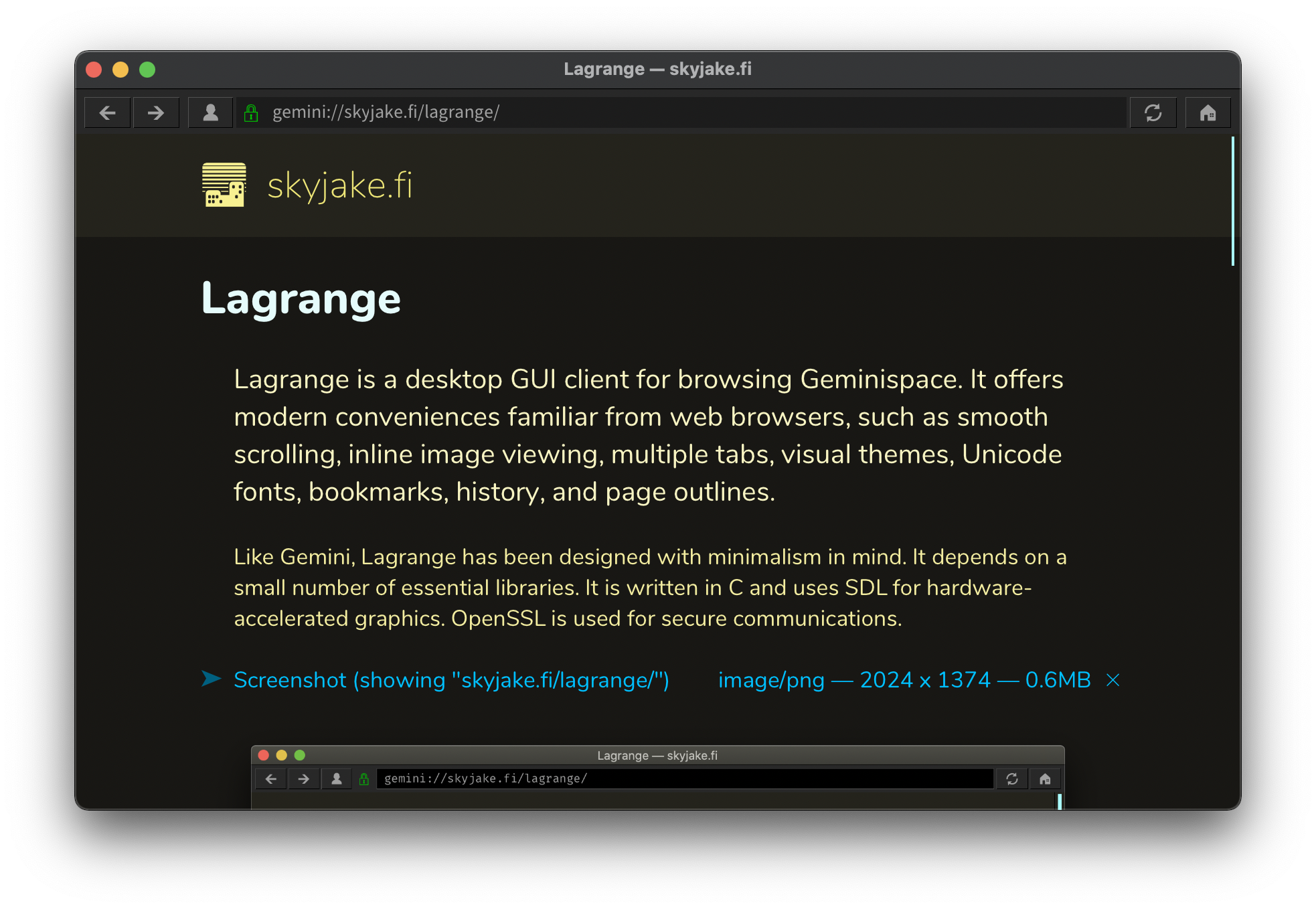 Features
Beautiful typography using Unicode fonts
Autogenerated page style and Unicode icon for each Gemini domain
Smart suggestions when typing the URL — search bookmarks, history, identities
Sidebar for page outline, managing bookmarks and identities, and viewing history
Multiple tabs
Identity management — create and use TLS client certificates
Audio playback: MP3, Ogg Vorbis, WAV
And more! Open `about:help` in the app, or see help.gmi
Downloads
On Linux and other platforms, you'll need to compile the source tarball (CMake).
What's new?
v0.8.1
Support for Gopher.
8-bit ANSI foreground colors. Previous releases only supported 16 colors.
More keybindings and an option to disable smooth scrolling.
UI refinements: identity creation, opening tabs in foreground/background.
HTTP refinements: bypassing proxy, HTTP→HTTP redirects.
Windows: Fixed opening of drag-and-dropped files.
macOS: Improved mouse wheel scrolling.
Bug fixes: possible lockup when navigating back.
Feedback
If you have questions, comments or improvement ideas, you can reach me via:
See also